Crew #3904 included the following individuals:
Capt. James D. "Don" Ezell (Airplane Commander)
1st Lt William H, "Bill" Jackson (Pilot)
1st Lt Richard "Dick" Neville (Bombardier)
1st Lt Anthony "Tony" Cizina (Navigator)
S/Sgt Frederick "Fred" Miles (Radar Operator)
M/Sgt James "Jim" Garcia (Flight Engineer)
S/Sgt John Dykun (Radio Operator)
S/Sgt John Mucha (Right Gunner)
S/Sgt John Melko (Left Gunner)
T/Sgt Francis Scopel (CFC)
S/Sgt Edward "Ed"; Pendergast (Tail Gunner)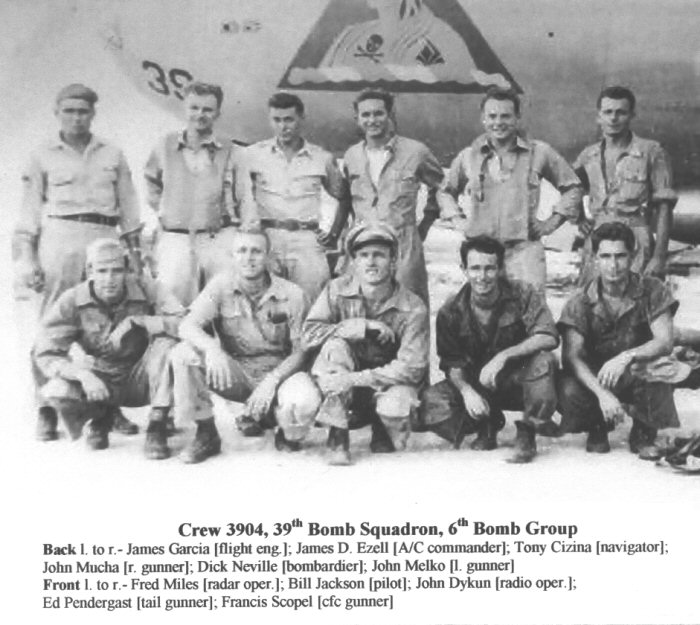 Photo courtesy of Ed Pendergast, Tail Gunner.
This was the first crew to fly 25 missions, completed during the period March 4 to July 20, 1945. They completed 5 of those mission in 10 days during the March blitz. At 3,000 miles per mission, flying 25 missions was the equivalent of circling the globe 3 times - very slowly and with people shooting at you.
DFC Citation - Mission 28. Kanoya East Airfield, Kyushu (Apr 21)
For extraordinary achievement while participating in aerial flight 21 April 1945 from their base in the Marianas Islands. These individuals were combat crew members of a B-29 aircraft participating in a bombing strike against Kanoya east airfield, Japan, at a time when our invasion of nearby Okinawa was in its early stages and undergoing heavy aerial attacks by Japanese planes staged from this airfield and others in the vicinity. This crew, flying with the intent to disrupt these enemy operations and relieve the pressure in the Okinawa area, joined formation off the coast of Japan at a designated spot after having navigated more than 1300 miles of open water. The attack proceeded, during the course of which they helped repel two enemy fighter attacks and maintain close formation in the face of heavy and accurate anti-aircraft fire. By continued performance of their duties with a high degree of skill and devotion to duty, they were able to achieve excellent bombing results, inflicting severe damage on hangers, parking areas, runways and other installations. Throughout the long and difficult mission, this crew, who have completed more than twenty-nine combat sorties, worked with precision and determination, and by their outstanding performance in bringing destruction to the assigned target despite all obstacles, reflected great credit on themselves and the Army Air Forces.
First Lieutenant WILLIAM H. JACKSON as Pilot
First Lieutenant ANTHONY P. CIZINA as Navigator
First Lieutenant RICHARD NEVILLE as Bombardier
Master Sergeant JAMES G. GARCIA as Flight Engineer
Technical Sergeant FRANCIS E. SCOPEL as Central Fire Control Gunner
Staff Sergeant FREDERICK R. MILES as Radar Operator
Staff Sergeant JOHN P. DYKUN as Radio Operator
Staff Sergeant JOHN MUCHA as Right Blister Gunner
Staff Sergeant JOHN MELKO JR as Left Blister Gunner
Staff Sergeant EDWARD H. PENDERGAST as Tail Gunner
[Transcribed by David Wilson, son of Sgt Bernard E. Wilson (Gunner, "Anonymous IV")]