---
Off-Duty
Aboard Ship
Between missions, flight crews found many ways to let off steam or to relax. The ground crews were on a more rigid schedule.
Playing cards and smoking cigars. William P. Simmons, ARM 3/c may be closest to the camera.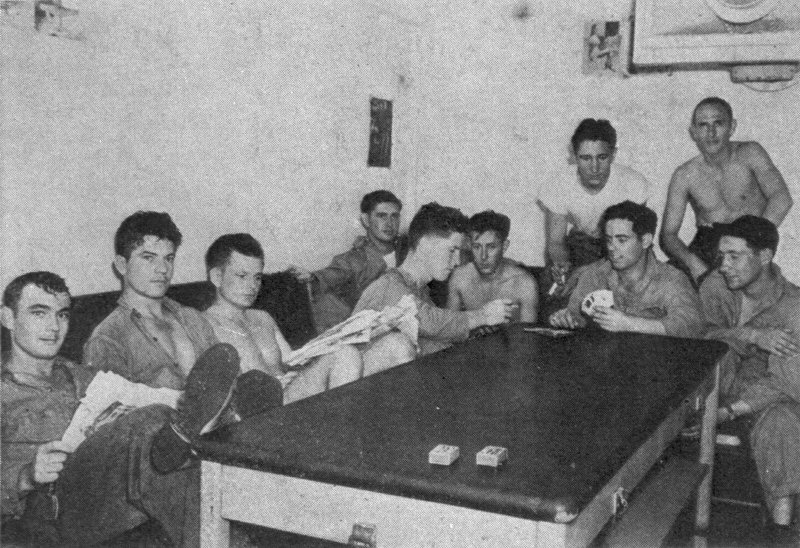 Playing cards and reading the paper. Floyd G. "Dude" Norman, AMM 2/c is at the end of the table, holding the cards. His crewmate Stephen Ziman, ARM 3/c is behind him in the t-shirt.
Manus Island (Oct 3 - 12)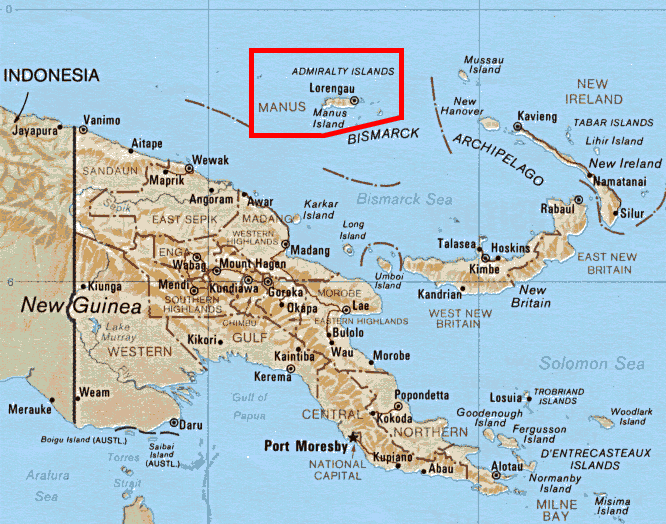 On October 3, VC-27 visited Manus Island for 9 days of R&R while the U.S.S. Savo Island replenished supplies in Seeadler Harbor to the east. Manus Island is located north of New Guinea, which is located north of Australia.
Ponam Island (Nov 3 - Nov 19)
On November 3, U.S.S. Savo Island returned to Seeadler Harbor for supplies and repairs. This time, the members of VC-27 flew their planes to Ponam Island for several days of R&R. They returned to the U.S.S. Savo Island on November 19.
Ponam Island is a small sand key island located north of Manus Island. Ponam Island is only about one mile long and 400 yards wide. The entire west end was taken up by a 5,000 foot airstrip with housing and repair facilities. The east end had trees and an outdoor theatre where Bob Hope performed.
The "Rover Boys" Join VC-27
During this time, an additional 10 FM2 pilots joined VC-27. Informally known as the "Rover Boys", they included Paul Barrow, Bob Cockle, Jim Manfrin, Joe Miller, Bob Pfeifer, Hal Roberts, Ed Schalk, Bob Shape, Ben Smith, Fred Vocke.
At the same time, Frank Leighty, also an FM2 pilot, left the group. He had a record of at least 4 kills and had survived at least one ditching.
The Mt. Hood Ship Explodes
The explosion of the Mt. Hood threw debris for long distances.
On Nov 10, there was some excitement as the Mt. Hood ammunition ship blew up several miles to the east in Seeadler Harbor. The blast left 45 people dead, 327 missing (presumed dead) and 371 injured. The harbor was a staging and supply area for the fleet. Presumably, the U.S.S. Savo Island was present in the harbor when the explosion occurred.
Excerpt from "Composite Squadron VC-27" by Bob Jackson:
Ponam was a fine rest center; pilots lived in comfortable Quonset huts, were served a variety of healthy meals, enjoyed the facilities of the Officer's Club and enlisted mess and thrived on good motion pictures, band concerts, swimming and athletic games. It had almost all the equipment and facilities of a functioning naval airfield - there were workshops, a small hospital, a cinema, church, and a cookhouse.
The drinking water was terrible, but two cans of beer were allocated daily during "beer call"; consequently those who didn't drink were very popular! Sometimes the beer was warm, but an enterprising sailor figured out that C02 bottles could be used to cool it. Toilet facilities were unique; they were like four-holer outhouses built on stilts over the sea which is where the waste ended up.
Repair, maintenance, overhaul and replacement of aircraft took place during this 10 day rest period and ten replacement pilots were integrated into the squadron. Lt.(jg) Robert C. Shape - fighter pilot now of Sun City Center, Florida relates: "... I was one of the replacement pilots assigned to the squadron after the Leyte Gulf activities ... but [the captain] saw to it that we were accepted and assimilated as no less equal in squadron standing than those who had been there from the beginning ... Before joining VC-27 I had been a member of a Corsair [F4U] squadron [VF-3021 commanded by a completely ineffectual C. 0. Mile in the New Hebrides [things were so bad] that we were decommissioned before receiving any active assignment ... [and I was assigned to a "replacement pool". After joining VC-27,] I've often reflected on what a GREAT assignment that was - to have been in a squadron with no respect for (or confidence in) its C.O., then to have been shuffled all over the ocean awaiting worthwhile orders, and finally being assigned to VC-27 with its superb esprit de corps was like awakening from a bad dream ... the camaraderie became apparent to me as soon as I arrived. "