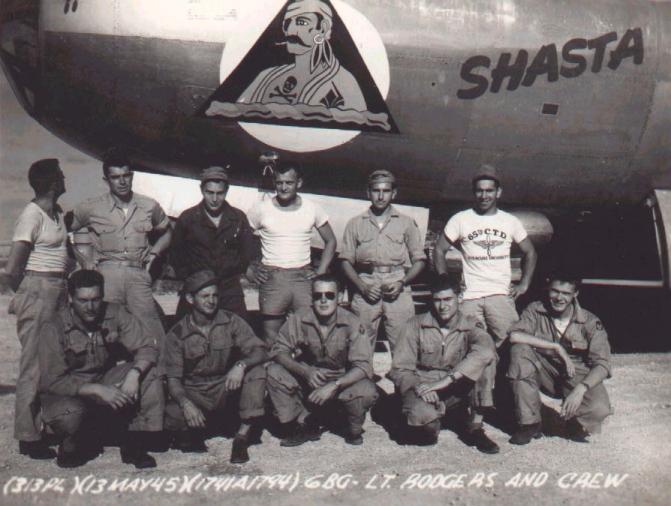 Photo courtesy of Joe Whitney
Lt Kingman Rodgers and crew in front of Shasta. This is one of the crews that flew Shasta from time to time. Their primary plane was "Lovely Lois".
Shasta was flown by members of two different crews. These included Crew #2408 (the crew of Cpt Robert "Pete" Fortune) and Crew #2415 (the crew of Cpt George N. Schwager). The members of Crew #2408 may have only been on the aircraft only long enough to fly their 30 missions.
Other people who flew with the crew included Major Louis M. Sowers (later Lt. Colonel, C/O 24BS).
After the primary crew rotated home, Shasta continued to be flown and ended up being ditched near Tinian by Cpt William P. "Pete" Fortune. A color video of the ditching can be found on YouTube.
In Memoriam
1st Lt. George N. Schwager. Born 26 Nov 1922. Died 19 May 1981. Buried Jefferson Barracks National Cemetery, St. Louis, MO.