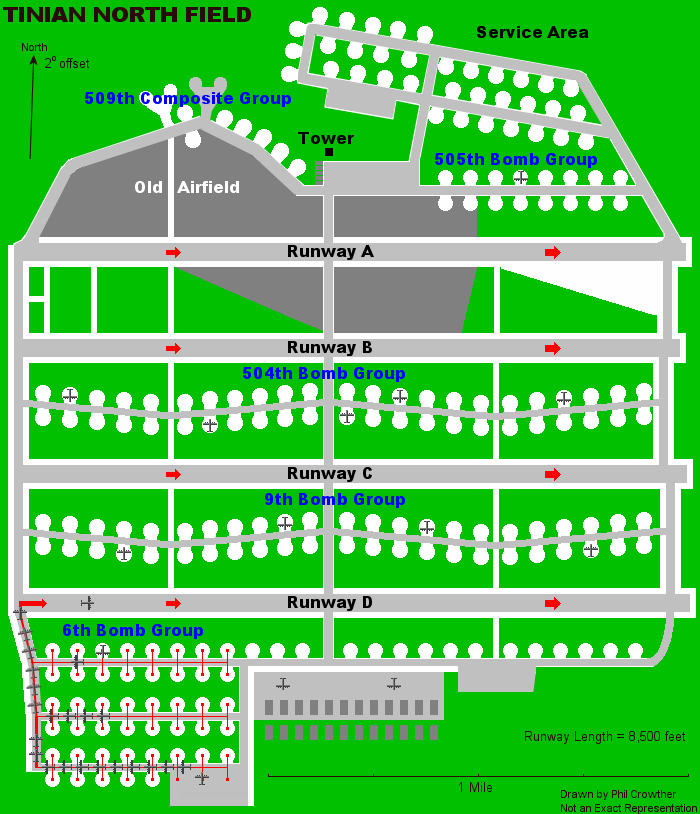 The 6th Bomb Group parking area was at the southwest part of the airfield. Presumably, each of the 3 squadrons would occupy a taxiway. The aircraft scheduled to participate in the mission would exit their hardstands forming a line at the end of the runway.
Because of the tendency of the engines to overheat, the crews would follow special procedures in taxiing to the runway. Initially, the crew would taxi using only the two inboard engines. Once the airplane was lined up behind another airplane, and receiving a cooling blast, the crew would switch to the two outboard engines. When they were a few places from takeoff, they would restart the inboard engines.
The planes would take off in 30 second intervals. This meant that, with luck, a squadron of 16 planes could take off in 8 minutes - which is quite a while if the aircraft want to fly to the target together.
If the 6th Bomb Group was the only group flying the mission, they could shorten the time by using additional runways. However, this was not always possible on maximum effort missions, since other groups would be using the other runways.

"The 6th Group prepares to take off on a mining mission from Iwo Jima in July 1945. Myas Dragon heads the lineup."
Source: Steve Birdsall, "Superfortress - The B-29", Squadron/Signal Publications, p. 24 [Larry Reineke]
[In fact - these are probably planes that stopped at Iwo on the way back from a mission.]