The members of crew #4009 were:
1/Lt William J. Christie (A/C)
1/Lt Thomas D. Kenny (Pilot)
1/Lt Thomas J. Ferriell, Jr. (Navigator)
1/Lt James A. McGrail (Bombardier)
M/Sgt Nicholas Critelli (Engineer)
S/Sgt Robert E. Garrett (Radio)
S/Sgt Ralph H. Di Bianco (Radarman)
T/Sgt Thomas A. Neff (CFC)
S/Sgt John P. Olinger (R Gunner)
Sgt Billy B. Moore (L Gunner)
T/Sgt Carlton C. Rowe (T Gunner)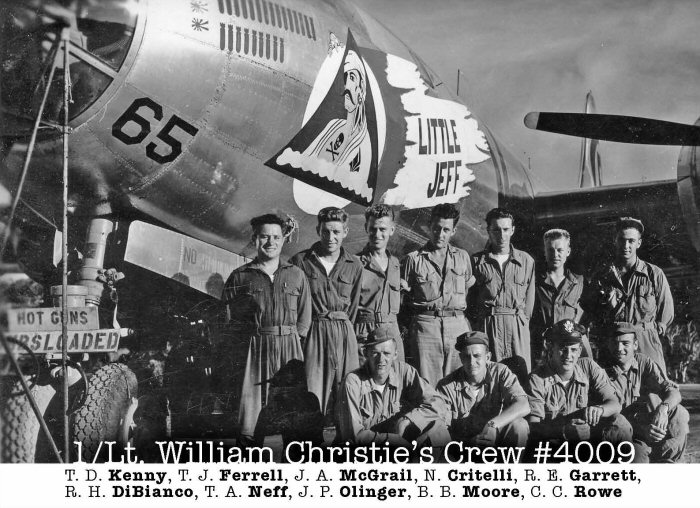 Photo provided by 6BG, all rights reserved.
DFC Award - Mission 44. Tokyo Urban Area (May 25-26)
For extraordinary achievement while participating in aerial flight on 25 May 1945. These individuals were the combat crew of a B-29 aircraft, based in the Marianas Islands, on a low altitude night incendiary raid against the city of Tokyo, Japan. Assigned as the pathfinder plane, to find the target and mark it with incendiaries, these flyers pressed on to the objective although their plane was caught and held in searchlight beams from the initial point of the run until after bombs away. Guided by the lights, enemy anti-aircraft and fighters attacked aggressively. Despite the fact that their plane sustained flak hits and was assaulted by two waves of interceptors, this crew courageously held to their course and destroyed two enemy fighters. They bombed the aiming point with great accuracy, contributing materially to the success of the mission. The coolness and precision under fire of these men, who have completed more than twenty two combat sorties, and their devotion to duty and disregard of personal danger, reflect great credit on themselves and the Army Air Forces.
First Lieutenant WILLIAM J. CHRISTIE as Airplane Commander
First Lieutenant THOMAS J. FERRIELL, JR, as Navigator
First Lieutenant THOMAS D. KENNY as Pilot
First Lieutenant JAMES A. MCGRAIL as Bombardier
Master Sergeant NICHOLAS CRITELLI as Flight Engineer
Technical Sergeant THOMAS A. NEFF as Central Fire Controller Gunner
Staff Sergeant RALPH J. DIBIANCO as Radar Gunner
Staff Sergeant ROBERT E. GARRETT as Radio Operator
Staff Sergeant JOHN P. OLINGER as Right Blister Gunner
Staff Sergeant CARLTON C. ROWE as Tail Gunner
Staff Sergeant BILLY B. MOORE as Left Blister Gunner
[Transcribed by David Wilson, son of Sgt Bernard E. Wilson (Gunner, "Anonymous IV")]