Crew #3915 was one of the original crews and flew 35 combat missions. The members of Crew #3915 were:
Cpt Jeffrey Richards (A/C)
1/Lt Lee M. Jepperson (Pilot)
F/O Irwin L. Podell (Navigator)
2/Lt Lawrence L. Lewis (Bombardier)
M/Sgt Martin Selitsky (Engineer)
S/Sgt Robert I. Hanley (Radio)
S/Sgt Edward D. Fischer (Radarman)
T/Sgt Stanley L. Powell (CFC)
S/Sgt Charles Pitts (R Gunner)
S/Sgt Normand H. Lemoi (L Gunner)
S/Sgt William A. Johnston (T Gunner)
1/Lt George E. Little (Bombardier), originally with Crew #3901, replaced 2/Lt Lawrence L. Lewis.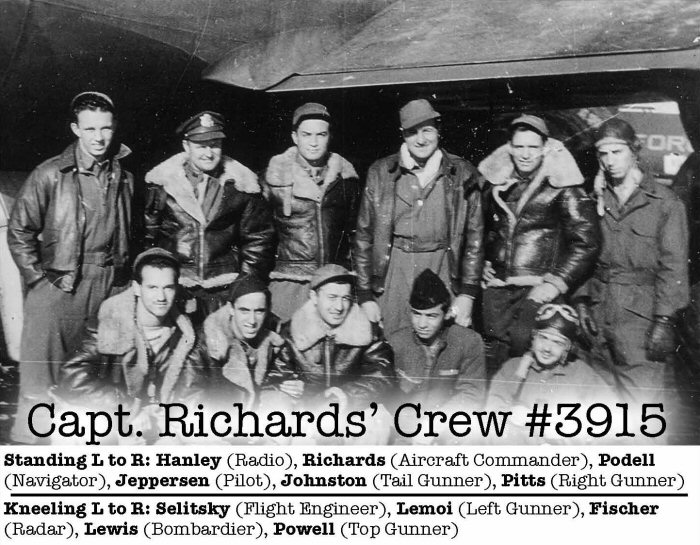 Photo provided by 6BG, all rights reserved.

Photo provided by 6BG, all rights reserved.
DFC Citation - Mission 45. Yokohama Urban Area (May 29)
For extraordinary achievement while participating in aerial flight on 29 May 1945. These individuals were members of the crew of a B-29 aircraft based in the Marianas Islands on a daylight incendiary attack on the city of Yokohama, leading a flight within the lead squadron. On the bomb run, heavy, intense and accurate anti-aircraft fire was encountered, and the lead aircraft of the squadron developed engine trouble causing the formation to disperse into flights. Notwithstanding extensive damage to their plane, this crew immediately assumed the initiative and led the flight through the remaining portion of the bomb run and over the target, successfully dropping their bombs as briefed with devastating effect on the industrial area of the city. During the bomb run, the plane was subjected to aggressive attacks by three fighters, two firing cannons and machine guns, the other dropping phosphorous bombs from above. On the breakaway from the target, the formation was subjected to further intense flak and five additional fighter attacks, but returned successfully to their home bases. These individuals, veterans of more than thirty combat missions, performed their assigned duties with skill and devotion, accomplishing a dangerous mission with outstanding success and reflecting great credit on themselves and the Army Air Forces.
First Lieutenant LEE M. JEPPERSON as Pilot
First Lieutenant GEORGE E. LITTLE as Bombardier
Flight Officer IRWIN L. PODELL as Navigator
Master Sergeant MARVIN SELITSKY as Flight Engineer
Technical Sergeant STANLEY L. POWELL as Central Fire Control Gunner
Staff Sergeant EDWARD D. FISCHER as Radar Operator
Staff Sergeant ROBERT I. HANLEY as Radio Operator
Staff Sergeant CHARLES PITTS, JR as Right Gunner
Staff Sergeant NORMAN H. LEMOI as Left Gunner
Staff Sergeant WILLIAM A. JOHNSTON, JR as Tail Gunner
[Transcribed by David Wilson, son of Sgt Bernard E. Wilson (Gunner, "Anonymous IV")]
A separate DFC Citation was written for Captain JEFFERY RICHARDS as Airplane Commander of Crew #3915.
In Memoriam
S/Sgt Normand H. Lemoi
Normand H. Lemoi, of Coventry, RI, passed away on December 17, 2009. "He was a B-29 Left Waist Gunner in the 39th Squadron, crew #3915. His plane was named "Son of a B-29" (which he painted on the plane). He participated in 35 combat missions over Japan.